Loralie Designs' On The Mend: Embroidery With A Heart. Free Embroidery Stuff Post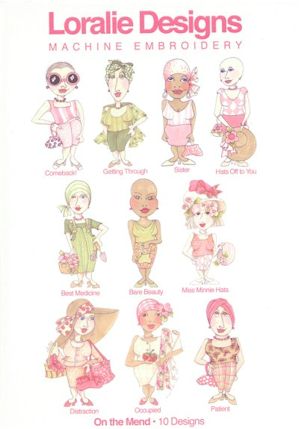 Update:  Congratulations to Eileen (Comment #105) – she'll be receiving a copy of Loralie's On The Mend embroidery collection.  To everyone else – thanks for commenting and sharing your stories, but don't go far, we have LOADS of stuff to give away!  We will leave the commenting open on this one for anyone that wants to participate.  The contest is now over, though.
Breast cancer is one of those things that touches the lives of almost everyone.  Many have fought it, many are fighting it right now and, unfortunately, many more will find out they have an uphill battle on their hands.  One of the ways that we can all help in the quest for a cure is to spread awareness.  In this Free Embroidery Stuff post, we wanted to do something different.  You can still tell us how you would use these designs if you want, that's ok.  But this is more than that.  Since this touches so many lives, this is open to whatever is on your mind.  Feel free to share your stories – or not at all – you can just leave your name as a comment to enter, anything is fine. 
Also, I do want to take a second to mention that until we finalize the comments and the contest is over, your comment number may change.  This is because some comments must be approved and do not show up right away. 
****************************************************
We will be giving away one collection of Loralie Designs' On The Mend embroidery designs.  One winner will be drawn randomly.  For official Free Embroidery Stuff Rules (and official winner list), click here. This contest ends at 8/18/2008 at 9:59am.